« Part 1 – Making the Tunic Pattern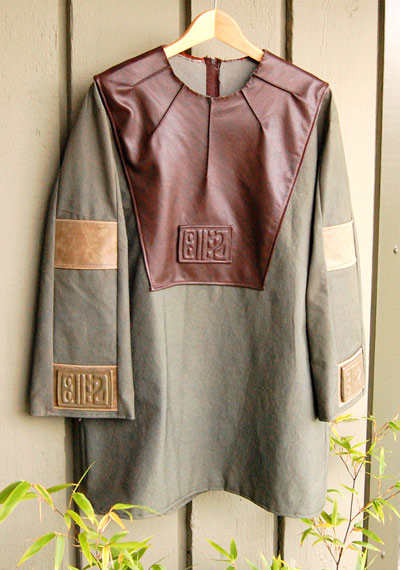 Here is my chimp tunic.
When I first got my sewing machine, I had visions of making my own custom shirts. But buying shirts was so easy, I just never did make the time to start sewing my own. However, when I decided that I needed a Planet Of The Apes male chimpanzee uniform, I was faced with either taking out a second mortgage to buy one, or getting down to sewing in earnest.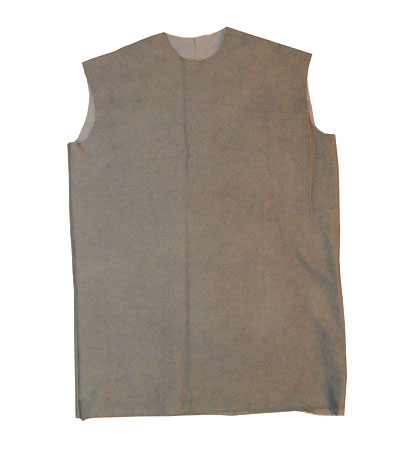 I started working on the costume shortly after last Halloween, by making a paper pattern, but I set the project aside for the following 9 months or so. But with Halloween creeping up, I thought that I'd better haul it out and work on it again.
I got some fabric on sale at Wall-Mart Wal*Mart for $1/yard and dyed it green. Then I cut out and stitched together the front and back panels to form the torso. I sliced the sleeve pattern into 3 strips in order to form the 3 panel sleeves that are customary for chimpanzees. I spaced out the 3 pattern pieces to account for seam allowances before I traced and cut out the 3 sleeve pieces.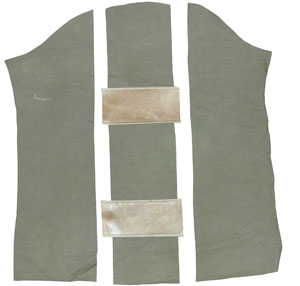 I picked up some brown and green leather upholstery scraps on ebay and fashioned the "bib" and sleeve patches and attached those before assembling and attaching the sleeves. The glyphs on the chest panel and sleeves are cast latex rubber, and were made by Matt Sotis, who is also the creator of my chimp mask.
Yeah, I am making this for Halloween, but in the meantime, I'm really tempted to just start wearing it around (without the mask) and see what kind of reaction I get on the street. I feel like I could probably peddle quite a few Dianetics books wearing this garment.
Next, I will try to learn how to knit in order to make the sleeve cuffs/extensions.