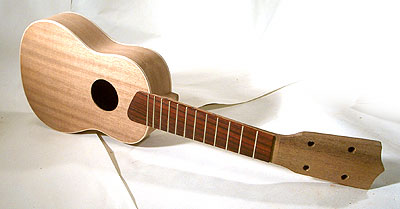 I'm not going to beat around the bush with any flowery introductions this week. You're here to see how the uke's coming along, and that's just what you'll find.
Gluing the neck to the body
Attaching the neck to the body was a pretty straight-forward affair. Since the neck is already shaped to provide proper alignment with regard to the face of the neck and the top of the uke, all you have to do is make sure that the neck is not in a twist.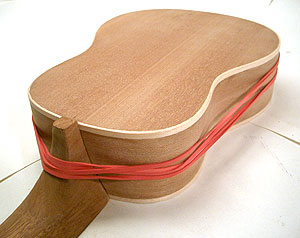 I pressed the 2 pieces face down on the bench to make sure that they were flat and held them together with some jumbo rubber bands while the glue dried.
This thing is really starting to look like a ukulele. Once that had dried, I trimmed the little protrusion from the back of the neck joint and sanded it smooth.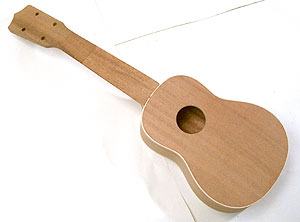 Installing the fretboard
I mixed up some epoxy and glued the fretboard in place using a block of maple between the clamps and the fingerboard to keep things nice and square and protect the it from marring.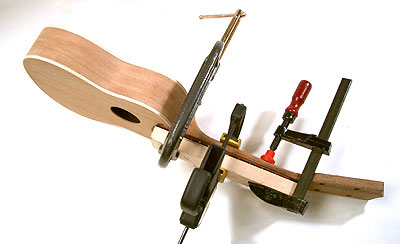 The kit came with some micro-sized pearl marker dots for the fretboard, but I decided to install them as side-markers instead. I want to do something a little more special for the front markers.
Next up: Pearl inlay.