So you've borrowed a video projector and you're finally going to host that Don Knotts film festival that you've always talked about. Well, Cannonball Run II doesn't look that great on a beige wall, and you don't have any white sheets to hang. Rest easy, with a trip to the fabric store and a few spare hours, you can make yourself an admirable projection screen.

Get some blackout cloth
What you are going to need is some drapery blackout fabric. This stuff is a lightweight, white fabric with a rubbery coating on the back. It is sold at most fabric stores and is normally used to make a light-proof backing for curtains. The rubber coating makes it super opaque, which is perfect for making a highly reflective projection screen.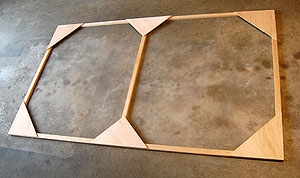 Build a frame
Figure out what aspect ratio and size screen that you would like, then build a frame to strech your blackout cloth over. I ripped down some 2×4′s that I had to make some 3/4 x 1 1/2 inch boards. I built a 90 inch diagonal 16:9 frame from these and added an extra cross member to the center for the sake of rigidity. I then cut some 12 inch gussets, screwing and gluing them in place to reinforce all corner joints. This made for a rather stiff and lightweight frame.
Strech the screen
I used a staple gun to stretch the fabric over the frame. What you will end up with is a dirt cheap, lightweight, projection screen. If you ever upgrade to a retractable model with automatic masking, you can always use this thing as a painting canvas.