Finkbuilt pal Vladimir Kerchenko had the following to say about the new 02 motor:
Golly, it really does look like a hot rod. couple o queries if i may…. is that a sway bar? that big red thing ? if not what, pray tell, is it ? also… isn't there a bunch of junk missing ? i can see a big space between the motor and the bay where the pavement is clearly visible … i can put my foot through it like fred flinstone and barnes rubble. won't aqua come up and get yer purty new fangled motor all dirty ? and whats that big red thing that looks like a praying mantis head ?? where the fuck's the battery ? maybe that accounts fer the hole ? but okay, c'mon you have to tell us how fast it is and stuff….. tranny ? how is it ?? does it pull like the 540i? good werk, my son.
Well, that big red thing is a strut tower brace. It stiffens up the front end by tying the tops of the struts together, preventing some chassis flex during bouts of enthusiastic driving. These old gals tend to start rattling, and developing cracks in the front corners. Chassis stffeners help out quite a bit.
Secondly, yes indeed, the spartan appearance of the engine compartment is a result of there being a bunch of junk missing. I moved the battery to the trunk, and removed a the non-functional windshield washer tank/pump assembly, along with a bunch of derelict smog stuff. I also installed an electric radiator fan, and removed the fan that used to be bolted to the pulley. I was also able to delete some hoses by going from a water-controlled choke to an electric choke. There's nothin' left in there but motor! Aint it purty?
Does it pull like your 540? No. But it is plenty quick for my purposes. I don't really know how fast it goes, I'm still breaking it in, and I havn't wound it up past 4,500 yet, and since I have changed out the tranny and the differential, the speedo is all out of whack.
Finally, that "praying mantis head thing". That is a piece of silly, 40 year-old man playing boy-racer, engine-bling known as the Ramflo CF 1000 air cleaner. After I bought it, I read a bunch of horror stories about the things catching fire and going up in a smelly cloud of black smoke at the first backfire, so I decided to add an improvised fire-guard.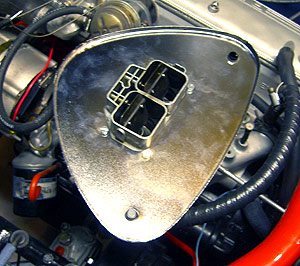 First, I cut out a rectangle of thin aluminum material (dryer duct) roughly the size of the carb throats. I cut a couple of little tabs and bent them down to act as anchor spikes, to keep the flame guard in place.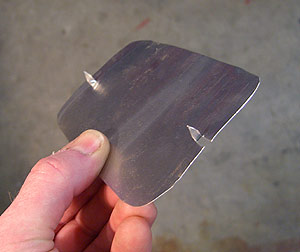 After positioning the aluminum roughly over the spot where a backfire would attack, I put the foam element shaper-thingy back in and re-installed the air cleaner.
Maybe mine won't go up in flames.