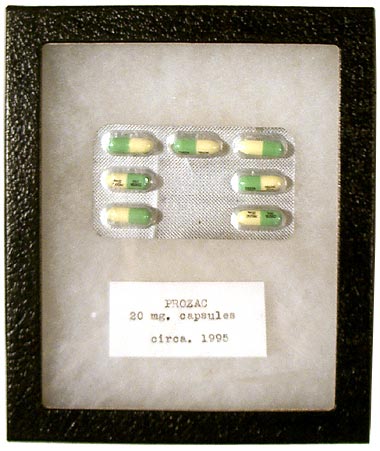 With the addition of a riker mount, a packet of pills becomes a commentary on late 20th century excesses in cosmetic psychopharmacology.
They 're not just for butterflies anymore. Riker mounts are those black cardboard shadowbox type specimen display frames that you commonly see wrapped around a Zebra Swallowtail.
The riker mount consists of a shallow cardboard box wrapped in pleasing black leather grained paper with 2 large pins that hold the glass-windowed lid in place, and a piece of poly-fiber batting inside to hold the specimen gently against the glass and provide a light, non-distracting backdrop.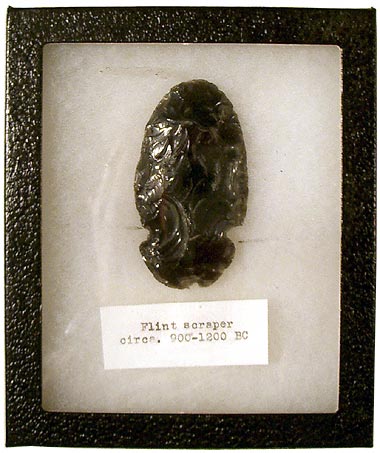 This obsidian blade is not really circa 900-1200 BC. I made it myself in 1989. (See volume 01 of Make magazine for an interesting look at the state of flint knapping by Bruce Sterling).
I bought a bunch of the mounts at flea market one time. I didn't really know what I was going to do with them, but they had that classic, why mess with success design that seems to have changed little in 100 years, and I couldn't resist them.
From a design standpoint riker mounts are right up there with the parker ball-point pen, and the classic composition book. They have the warmth of something made from all organic materials, glass, paper, metal and cotton, but the the presentation is all business – very official, scientific, and institutional. You can put anything in a riker mount and it lends it instant authority.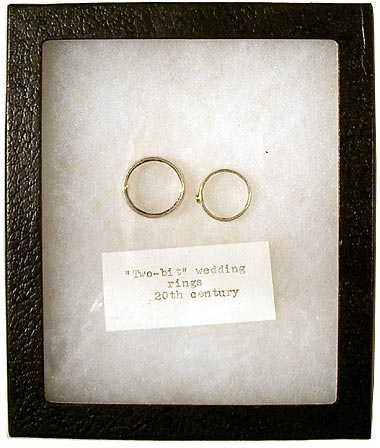 Make
your own rings from coins.
I've started a little wall of riker mounted artifacts. I typed out descriptive labels for each object using my old typewriter just to help it feel a little more period-ambiguous. Gratuitous use of the word "circa" in the labels helps turn up the museum vibe a bit. Though the mounts themselves are inexpensive, anything that you put in there suddenly has implied value, since it is being protected and displayed with pride. You could scrape the all the junk from under your sofa cushions, riker mount it, type up "Couch debris, Chicago Hilton. 2005″ and it would suddenly be something that nobody would be able to throw away. Oh, they are also great for mounting your pet stick bug after it passes away.