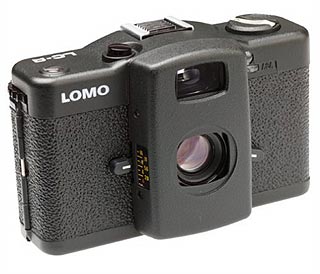 Some disturbing news is just now beginning to circulate on the internet. It appears as though beloved cult camera, the Lomo LC-A has gone out of production.
What is a Lomo LC-A?
The Lomo started production 1983 in the Communist-era Soviet Union. The story goes that the cheap but high quality Japanese pocket cameras that had started to proliferate in the early 1980′s inspired the Russians to come up with a "people's camera". Lomo Russian Arms and Optical Factory was tasked with producing a cheap but rugged and effective camera design with the high hopes that every self-respecting proletariat would be able to own one and snap shots to their heart's content.
The resulting LC-A was a quite pocketable 35mm camera with a very high quality lens, and an unusual but effective auto-exposure system. It was made cheaply, but with a military sensibility that conveys quality despite it's somewhat clunky design. The camera sold well and was popular. As Soviet Communism began to unwind at the end of the decade, cheaper better Japanese cameras flooded the market and the Lomo goes out of production.
In the early 90′s the camera is "discovered" by some vacationing Austrian artists, who document their vacation using a thrift-store Lomo, with fantastic results. Before you know it, every hipster in Vienna had become a "Lomographer". The Lomo movement builds and the enterprising Austrians go to St Petersburg and talk the Lomo factory into putting the camera back into production. The group is awarded exclusive distributorship of the camera and forms the Lomographic Society International which becomes the hub of the lomo movement.
The camera produces images with a distinct vignetting and vibrant color rendition. The auto-exposure and distance range focusing lend themselves to shoot-from-the-hip photography, and some interesting low-light shooting opportunities.
The LC-A's defacto status as an "art camera" distributed by artists, for artists has been a sort of license, or even mandate to shoot unconventional compositions, subjects, and film stocks. Pick up a lomo and you are compelled to experiment. As a result, some really great images have passed through the beady little eye of this camera.
There are other Low-Fi and cult cameras out there such as the Holga plastic camera or the Polaroid SX-70, but there's nothing quite like a Lomo for usability and consistently good results.
Get yours on eBay today, before they go from $100.00 to $300.00
If you have a lomo "wall" (that's how lomographers refer to their galleries) that you would like to share, please post a link or img no larger than 400 pixels wide in the comments of this post to help memorialize the passing of this great little camera.
Rest easy lomo fans, the supply of LC-A's isn't likely to dry up anytime soon. Lomo.com has announced that they will be offering "refurbished" lomos. I'ts never easy to seperate fact from hype with these people, so the details are murky, but according to their sales pitch :
"Using contacts that we have made over the years, we'll assemble an elite team of Russian camera engineers to check, repair, and refurbish the world's existing stock of Lomo LC-A's. We'll start with the stock on-hand in our warehouse, and soon move to scour the world for every single available piece. With love, care, a little spit n' oil, and a rock-solid international warranty we can ensure that a beautifully functional mass of Lomo's can continue to snap away at any and all objects of the world's Lomographic desire. Each unit is checked and verified by hand, and includes a 2-year international guarantee. Refurbished Lomo LC-A's are available, right now, and for as long as humanly possible."