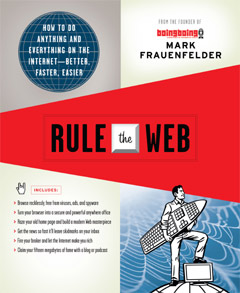 I was pretty flattered when Mark Frauenfleder asked me to contribute a pearl of wisdom to the "Tips From my Favorite Bloggers" chapter of his newest book, Rule The Web
. And I'm really glad that he did, because as much as I admire Mark for his perspective, interests, experience and tastes, the truth is I may never have gotten around to buying Rule The Web otherwise, which would have been too bad for me.
A startlingly good beach read
I'm also glad that I brought this book along with me to a two-day beach getaway, where I thankfully did not have access to the internet. You see ironically, being marooned without the web allowed me to read the book cover-to-cover, rather than just skim and browse as I would normally do with a book of this format – therby getting more out of the book. Had I been near a computer, I would have been sidetracked every 2 minutes checking out some neat web service or resource that I had no idea even existed.
How to Use The Internet
Rule the Web is not a directory of sites, although it does talk about many sites, nor is it an in-depth look at any one aspect of using the Web. It's more like one big magical advice column that answers all your questions about what you could be doing with the web to make your days easier, more productive and fun, but without you even having to ask them.
Mark is a DIY guy who spends a lot of time on the web trying out cool new ways to search, organize, store, share, refine, publish, work, streamline, read, fine-tune and enjoy by way of the web. With this book, you get to harvest all the sweet fruits of Mark's tireless experimentation without the painfull pitfalls and annoying dead-ends. The advice is wide-ranging, and always right on target.
This book is a great read for anyone who uses the web at all (or aspires to), and who doesn't? Whether you fancy yourself a blog-publishing, podcasting guru, or a newbie you will learn a ton from this dense jewel. Buy from Amazon
.
For ongoing tips, check out the companion Rule the Web blog.