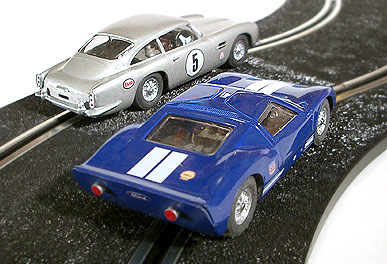 Trendy fads in entertainment come and go. One week it's movies, the next week it's the Internet. But anyone paying attention to the big picture will tell you that there is one thing that you can always count on being there for you, and that is slot car racing.
I'll have to agree. For my money, there is no better Saturday night than the one spent down at the basement track with my boys, a couple of beers and stack of Wailers records. When you make the logical and inevitable leap from static car modeling to slots, fear not. You will be able to easily convert your models into slot cars.
Any 1:32 scale model car kit like the ones available from Airfix, Lindburg, Monogram or Revell can be made into a slot car with the addition of some simple parts and fabrication.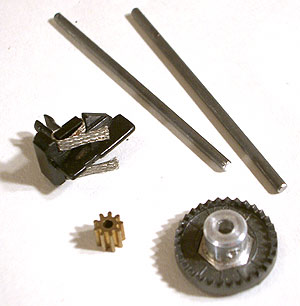 You will need the following parts to slotify your car:
Small 12 volt Mabuchi or Johnson type can motor (or suitable slot car motor)
Wheels and tires
Axles / bushings
Pinion gear
Crown gear
Guide flag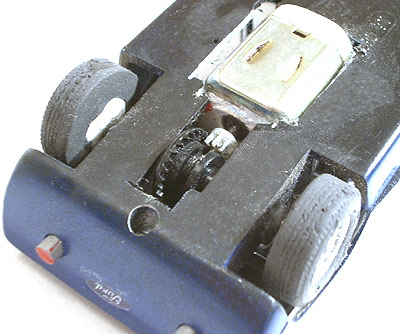 Depending on how the model is designed, you may or may not have to fabricate a chassis. Some models have a "clamshell" design that will allow you to simply cut openings in the bottom half for the motor and gears. For models with more elaborate or otherwise unsuiltable undercarriages, you will need to make a chassis. I have made tubular "space frame" chassis' before by soldering together brass tubing, but the quickest, easiest method is to make it out of a flat piece of Plastruct sheeting. Cut an opening to serve as a "motor mount". For these quick and dirty slot cars, I have just epoxied the motors into the openings. This will make replacing a failed motor difficult, but I don't plan on replacing any motors. You also need to provide a place to mount the axles. A simple Plastruct box arount the gear, or even just 2 walls for the axles to ride in will work just fine.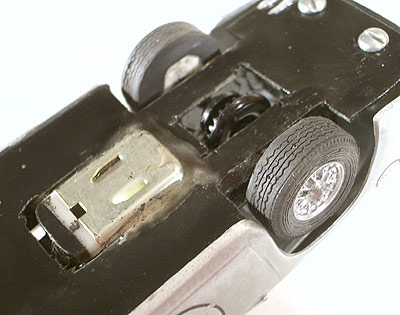 Short lengths of Plastruct tubing epoxied to the inside of the body shell will provide sturdy mounting points for the chassis.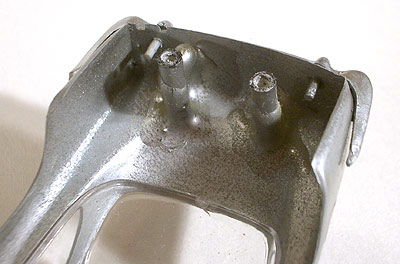 Axles can be made for pennies from 1/8 o.d. steel rod. Bush the axles with short lengths of 1/8 i.d. brass tubing. I got some motors for a few bucks each from an electronics surplus house but with the rising popularity of 1:32 scale slots, there are lots of compnents available. If you don't have a big hobby shop in your area, you can order parts from places like Fantasy World Toy and Hobby. You will deffinately want to purchase your crown and pinion gears. You can buy wheels and tires as well, but since I like to make things, I decided to make my own.
For the wheels and tires, I used a silicone mold making compound in conjunction with a plastic casting resin. Both products are from Smooth-on. One of the model kits that I had, came with some nice wheels withe seperate hard rubber tires that fit over the rims just like slot car tires, so I used those as donors to make my molds.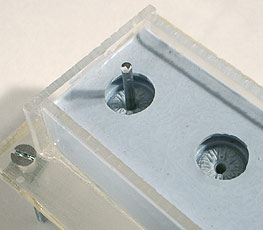 To make the wheel mold, I built a box out of acrylic and drilled holes through the bottom to hold some axles. I then placed the donor wheels onto the axles and filled the box with silicone mold compound. Once that cures, you can remove the donor wheel, and you have a mold from which you can cast as many wheels as you need.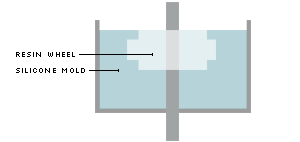 To make a set of wheels, just put some axle rod in place, and pour in some casting resin.
You can use the same materials and technique to make tires, but you will use the compounds in reverse. Make the mold out of the resin, and cast the part (tire) out of the silicone compound. Silicone makes great tires, very sticky.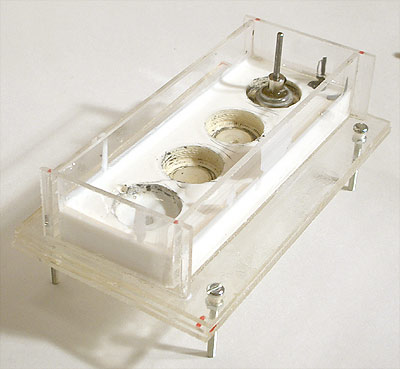 For the tire mold, you will mount the whole donor wheel/tire set onto the stub axles and pour casting resin around them. When the resin cures, remove the wheels and tires. To cast a set of tires, put just the wheels and axles in place, pour in some silicone and allow it to fully cure. Be sure to use a release compound on your mold to insure that you will be able to remove the parts undamaged.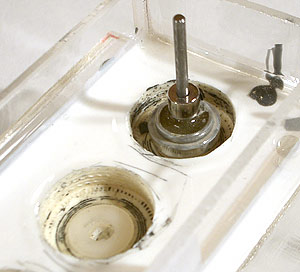 This is a one-piece mold, so the wheels and tires will have one irregular, unfinished side, but not to worry, this will be on the inside and it won't show.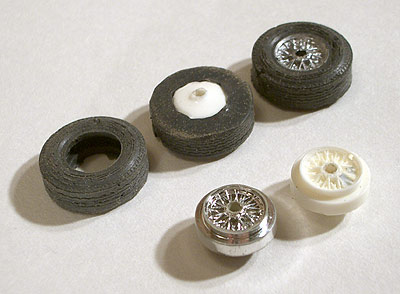 If all of this DIY is too much, but you still want to join in the fun, you can buy some incredible scale detailed slot cars, ready to run from manufacturers like Fly, Ninco, Scalextric, and Pink Kar. If you want to build it yourself, but not make it all yourself, you can buy some cool vintage kits from EJ's Hobbies. This fella puts together some interesting "homologation specials" by combining various NOS bodies, chassies and components and offering them as kits. Also be sure and stop by the "scale stuff" area of the Old Wierd Herald to see some great car and track building articles.