In a turn of events only slightly less fortunate than Mr. Jalopy finding a Bally Captain Fantastic just sitting there in the gutter, I just got myself a Gottlieb Road Race pinball machine!
I've always liked pinball. When I was a kid, I would gravitate toward pinball in favor of Asteroids or Space Invaders. I love the clicking of the score reels, the relays, and the musical tone of the analog chimes in the old Electro-mechanical machines. Iv'e always wanted a machine. But It's the kind of thing that you don't normally just go out and buy. For the few people that I know who actually have pinball machines, the machines seem to have found them.
This one found me when my friend Roya and her man Greg (who met in some pinball related context) decided to lighten their material load and expatriate themselves to Sweden. Many of their games are either going into storage, or going into the care of friends. This particular game was not really functioning when I got it. Roya and greg rescued the machine from a friend who apparently kept in in their garden shed for a number of years, but they never got around to refurbishing it. When Roya asked me if I wanted to buy it for an undisclosed paltry, token sum, I just about wet my pants.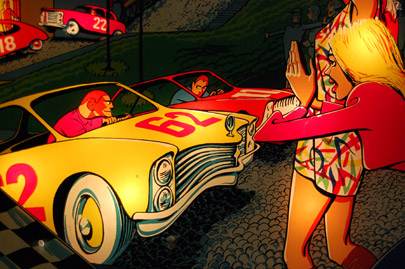 When I first turned the machine on, it didn't really do much. when I finally got it to come alive, the score reels were actually running backwards, few of the lights worked, and it certainly wouldn't go through a game cycle. I went through the machine pretty systematically, aided by the excellent troubleshooting guide at This Old Pinball. Once I got the steppers cleaned and adjusted, the score motor turning freely, and a whole host of switches and solenoids clean and moving freely, things really started to happen. I replaced all of the lamps, repaired most of the lamp sockets, and replaced all of the rubber bumper parts, cleaned and cleaned, and well, it's now a pretty happening pinball machine. I am still waiting for a coil to arrive so that I can fix the last major flaw, a broken pop bumper.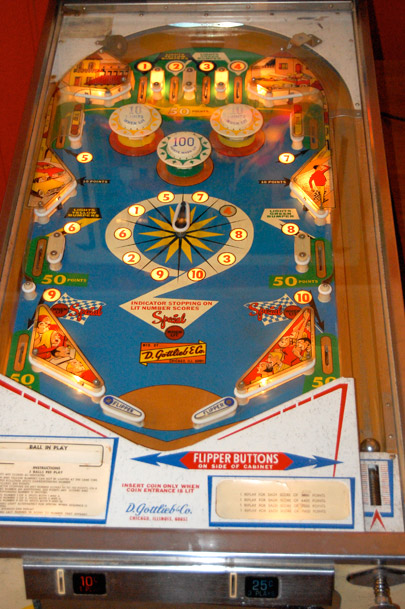 Ding! ding! ding! ding! ding! ding! ding!