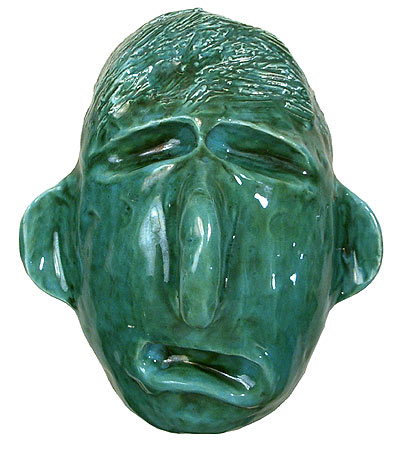 Billy Arkell was an unwitting master of 1960s modern figurative sculpture. It's not clear whether he was attempting to capture the essence the tumultuous time in which he worked, expressing some deep personal angst, or just avoiding more rigorous coursework by taking an 8th grade ceramics class.
This is the only known example of Arkell's work. Apparently untitled, the piece is marked only with "Billy Arkell – Jan 1965″ awkwardly inscribed in blue ball point pen on the white unglazed ceramic interior. Photos don't do it justice, but this is an evocative work. The deep set, down-turned eye sockets and contorted, agonizing mouth seem to cry out " Why do I have this monstrosity of an over-sized and hooked nose?!! The stylized, symetrical ears jut out listening for kind words that never arrive.
I aquired this piece for 49 cents at Value Village. It was marked 99 cents, but fortunately for me it was half off yellow tag day.