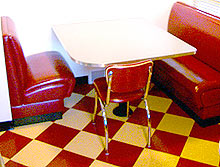 When you walk into a greasy spoon, do you immediately scope out the seating, hoping like hell that you get a booth rather some skimpy table? And are you not bummed when it becomes obvious that your server is directing you to a horribly exposed, under-cushioned, little floor table insted?
Me too. I wasn't ever going to let that happen to me in my own home, so I made a little sketch of my kitchen floor plan and headed down to JH Carr and Sons in the South end of Seattle. These are the folks who make the booths for restaurants all over the country. If you've ever eaten a chicken-fried steak, chances are you were sitting in a JH Carr and Sons booth.
They have a huge factory where they churn out booths, chrome-edged tables, chairs and all manner of restaurant seating, and ship it all over the world, improving dining experiences everywhere. There doesn't seem to be any minimum order either. They will gladly whip up a single booth, just the right size for your kitchen.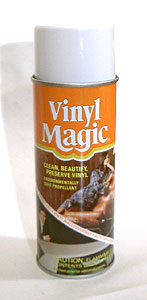 When I went to pick up my booth a few weeks after ordering it, the guy who helped me load it into the truck gave me a quick lecture on booth care, and handed me a can of Vinyl Magic. I was smitten.
I love vinyl magic. Not so much as a cleaner, I mean sure it shines up my booth like nobody's business, but I really like it for its brilliantly anachronistic package design. The can itself has that old world 4 color printing rather than an applied paper label, which gives it a quality feel. The front features a diagonal split scene with some excellent circa 1978 photography. The top shows a woman lounging invitingly on the armrest of some horrible monstrosity of a brown vinyl lounge chair and ottoman. The bottom pane has a guy in a white turtleneck leaning proudly over the white vinyl top of his car.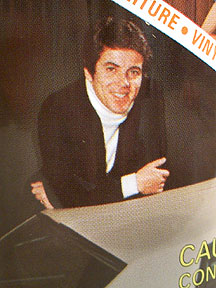 I was all prepared to go into an in-depth explaination of what makes vinyl magic so refreshing, when I stubmled upon this great article by Paul Lukas, who has collected the entire Magic family of cleaners.
With my can of Vinyl Magic running perilously low, I set out to replenish my supply. Unable to find any in the Seattle area, I visited the Magic American Website where I was met with some alarmingly contemporary package designs. Most disturbing of all, was the conspicuous absence altogether of Vinyl Magic.
I sent an e-mail to customer service at Magic American, hoping to get some clarity on the sutuation:
Steve,
Thank you for contacting Magic American, unfortunately we no longer manufacture that product and we do not have a replacement at this time.
Sincerely,
Chris
Christina Hays
Customer Service
Homax Products / Magic American
800-321-6330
—–Original Message—–
From: slode@xxxxxx [mailto:slode@xxxxxxxx]
Sent: Tuesday, March 29, 2005 9:57 AM
To: mail@magicamerican.com
Subject: Vinyl Magic
Hello,
I am trying to locate a retailer of your Vinyl Magic product in the Seattle area. I visited your website, but I dont see the product listed in the Magic section. Are you still offering this product?
Thanks,
steve lodefink
So, it appears that the Magic is gone. I have yet to call JH Carr and Sons, because I am afraid that they are going to suggest Windex or 409 or some lesser product. Their tech support page still solely reccomends Vinyl Magic as your primary booth care topcoat, so apparently they have not yet had a chance to deal with the fact that it is out of production.
If anyone happens to find any Vinyl Magic new old stock, please let me know.