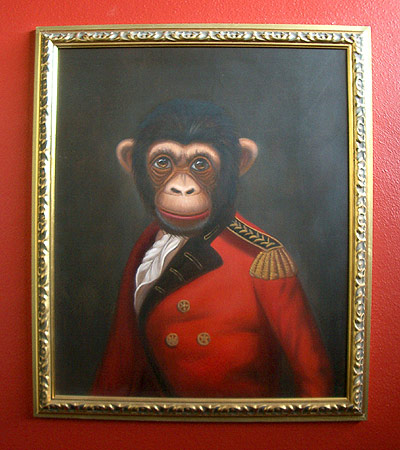 If you're like me, and don't have a rich record of your aristocratic, paternalist lineage to display in your foyer in the form of heirloom oils, you can still mock those who do with one of these super-cool "monkey paintings". I know, chimpanzees aren't monkeys they're apes, and I cringe as much as anyone when I hear them belittled by the M-word, but "monkey painting" just rolls off the toungue so nicely.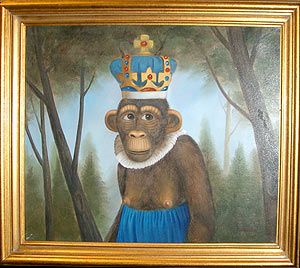 It all started for me when this painting of a crowned "monkey-princess" popped up in the window of a frame shop near my office building. My friend Ken and I admired it for some time until one day Ken scooped it up!
Determined to get my own monkey painting, I hit ebay, where I found there was a fairly steady stream of this type of painting available. I bought this really nicely done Napoleonesque chimp in red military finery, and framed it up in a rather gaudy gold frame. He now guards our house from the red wall of our entry, letting all visitors know that we're not your run-of-the-mill family, but one steeped in a history that leads right back to the banana revolution.