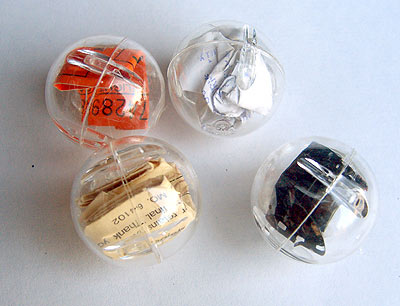 There is looking at life's debris (see finkbuilt masthead), and then there is encapsulating it in one-inch diameter clear plastic balls and selling it in gumball machines. D.C. junkman/artist Christopher Goodwin does the latter with his wonderful Trashball! project.
Mail Order Trashballs
If you're not in the D.C. area (currently the only city that has Trashball! machines) you can have them delivered right to your door for the unbelievably low price of $3.00 for a randomly selected 4-pack. Being the debris enthusiast that I am, I found it irresistable to give Trashballs! a try, and today my order arrived – a mere 3 days after I placed it.
The Balls
The actual capsules that the trash treats are packaged in are not your ordinary gumball machine bubbles. These clear polycabonate spheres are not meant to be easily opened. The only place that I have ever seen a case like these is at the core of of one of those light-up superballs. I actually had to destroy one ball to get it open. So what did I get?
Trashball 1: Rather uninteresting register receipt for $2.09 worth of flooring materials from National Wholesale Liqudators.
Trashball 2: Also sort of uninteresting bit of refuse, a baggage claim ticket.
Trashball 3: Slightly more intriguing, an auction lot stub for 2 chairs from a school auction in K.C. Missouri
Trashball 4: Here is where it gets more interesting, at least for the visually oriented like myself, this one has the most story to tell. An unmounted frame of Ektachrome showing a woman in a nightgown helping a little kid in the late 1980′s or so, trying on his new prize-fighter gear that he presumably just received for his birthday or Christmas.
At $3.00 for a 4-pack, I probably won't be ordering more, but if there was a Trashball! machine at my local watering hole, I would deffinately be plunking quarters into that thing like a blue-hair at a slot machine.