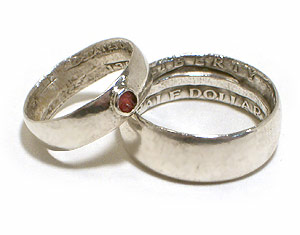 I'm not sure of the origins of the coin ring idea, but I would like to think that it was a product of the 1930′s dust-bowl when some down-and out but ingenious tinkerer with nothing but some idle time and 25 cents, managed to woo his young sweetheart with a fine sterling engagement ring.
I do remember where I learned of the concept. Someone on the sidewalk was handing out free copies of some new, doomed to fail fashion magazine aimed at the teen male segment. One of the articles was on how to make a coin ring. This is just the sort of project that I am powerless to resist, so I made immediate plans to visit a coin shop. I have always had a thing for the old silver coins. As a kid I used to go into my father's top dresser drawer when no one was around and take out this green canvas bank bag that held the remains of his boyhood coin collection and admire them all.
To make your coin rings, you will need a coin minted prior to 1965. That is when the goverment decided that they could save a bundle by making money that no longer had any intrinsic value, and started making coins out of a copper-nickel sandwich. Coins minted in 1964 and earlier were made of almost pure silver. You'll need one of those. A quarter will yield a medium width men's ring, or a wide band for a woman's finger, while a half-dollar will make a very stout ring for a man-sized finger. You could probably just buy your coin on ebay, but to get extra experiential value out the project, you should go into one of those coin shops run by some grumpy old kurmugeon who has been there since 1954 and hasn't seen an unfamiliar customer in 6 months.
Converting your coin into a very nice shiny silver ring is really pretty simple. You take a heavy spoon and tap on the edge of the coin, rotating it as you work, so that you work the whole thing in an even manner. You continue this, until the coin edge has mushroomed down into a wide band with an inside diameter that meets your desired finger dimensions. The center portion of the coin is then drilled out, leaving a silver band inscribed with E. Pluribus Unum, Liberty, United States of America, and all that. Pretty cool.
You can click over to this page to see some nice photo-illustrated step-by-step instructions on how to do it yourself.