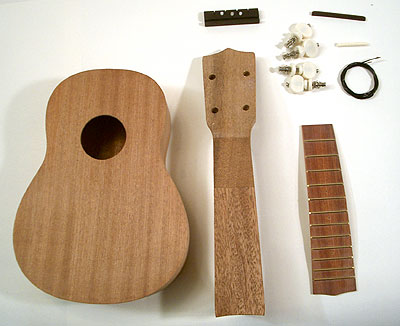 Grizzly Industrial sells milling machines, lathes, saws, drills, all manner of intustrial machine tools and shop equipment, and of course, ukulele kits.
Lutherie kits and supplies really do stick out as an oddball product segment for this industrial tool supplier. Apparently the president of the company is big into making guitars, and the kits are his pet project. I've known about the Grizzly guitar kits for a while and always thought that it would be neat to build one. A recent investigation into the ukulele sub-culture has pushed me past the tipping point where interest threatens to crescendo into obsession. The only way to get over it was going to be to dive right in, so I ordered up a Grizzly uke kit.
Unpacking the kit
The kit comes packed in a blue box about the size of a telephone book (which gives it an odd, Tiffany kind of feel). Inside there is a uke body made from laminated mahogany, a neck, pre-made fretboard, and a little bag which contains tuners, nut, bridge, strings, and some tiny pearl marker dots.
The top and back of the pre-assembled body are made of mahogany plywood, so you know that this isn't going to be the greatest sounding uke ever built, but for me, its more about the building fun than anything, and for the price, who could have expected a solid wood top? The neck is pretty nice, but the fretboard was not so great, being made of "doorskin" plywood with brass frets, so I decided to start by making a new fretboard.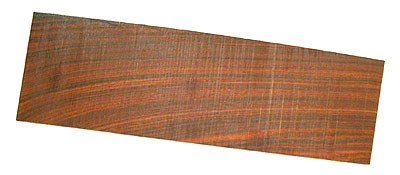 Making the fretboard
I had some beautiful cocobolo rosewood thins left over from my Nixie clock project, so using the grizzly fretboard as a pattern, I cut a new fretboard blank from the cocobolo with the band saw.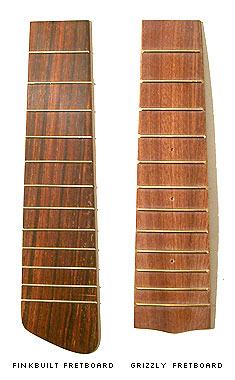 John the repair tech at Dusty Strings in Freemont provided the fret wire and some great advice on how to install it. I used a small razor saw and miter box to cut slots in the fretboard to accept the fret wire. I then cut the frets to length and tapped them into place with the butt end of a screwdriver, since I didn't have the appropriate soft hammer.
To be continued…