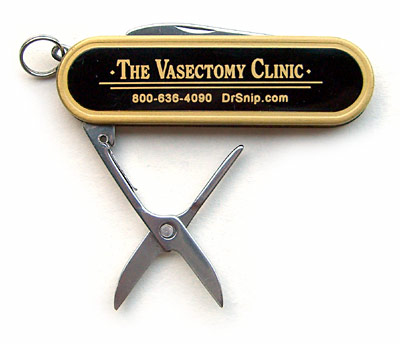 Finally , there is a product that appeals equally to zero population growth enthusiasts, and pocket knife collectors; The Vasectomy Clinic souvenir pocket snips.
This is by far the best piece of schwag that I have ever received. Don't get me wrong, I love those little light-up superballs, folding binoculars and stress-reducers that you gather up at trade shows, but rarely do I feel compelled to show one to anybody once the event is over. This is schwag with content.
Update:
Obtaining your knife
As far as I know, to get a knife, you need to go under the knife. Although, I'm sure that if you went into the clinic and asked for one, they would oblige.
If you are thinking about getting snipped yourself, I would highly reccomend Dr. snip. He obviously loves his job, and really knows his stuff, and your stuff. Here is a teste-monial from another satisfied customer.
My own experience with Dr. Snip was surprisingly good. I was certainly a little nervous, I am not used to having a strange man handle my scrotum, let alone cut it open. Although he was quite willing to keep me informed of exactly what he was doing during the procedure, Now I am going to coterize your vas, you may smell something burning…, I chose to engage in small talk as a diversion instead. It turns out that the doc was a pilot, and he was very interested in the gyroplane fllight training that I was taking at the time.
Before I knew it, it was over. and No, my voice didn't rise 2 octives as a result of the surgery.