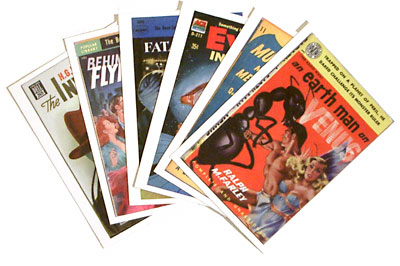 I got hooked on collecting vintage paperback books in the early 90′s. At that time, you could still walk into a thrift store, or crusty bookshop and had a pretty decent chance of finding something cool.
Around 1995 I scanned some favorite covers form my collection and published a short run of trading cards as poject for a class that I was taking on how to operate a printing press. With the help of some publicity (blurb in ID magazine) I sold almost all 500 sets from the run in a few months. However, I ran out of labels before I ran out of cards, and about 50 sets of cards remained unsold due to insufficient packaging, and languished in deep storage for the next 10 years before being unearthed during a recent move.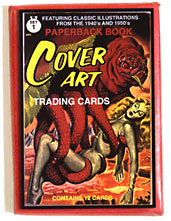 The packaging for the cards was inspired by that of fireworks. Each pack is wrapped in red tissue paper, and a paper label (derived from a book cover of course) is applied to the front. The result feels like a 50 pack of Black Cats. Each card pack contains 12 different cards. Some of the covers depicted feature art by notable cover atists like Earl Bergey, and Rudolph Belarski. Others are just great covers or oddball books.
I have recreated the depleted package label, and will now be offering up 10 sets of trading cards to finkbuilt readers. Also included (outside the pack) will be 3 "doubles" for trading stock. Although the card project was successfull, I always felt a bit disappointed that due to the short press run, limited interest and distrubution, the trading cards would never actually be traded. So if you would like a set, I am now offering the cards not for sale, but for trade.
The rules of the trade:
Using the comments of this post, make me an offer to trade. Just post an actual photograph (photo required) — exactly 4oo 300 pixels square — and description of the item (or whatever) that you would like to trade for one (1) pack of vintage paperback trading cards. At the end of June, I will choose 10 traders and we can make the swap. Postage to be paid by the respective senders.
If you need help posting an img tag, or need hosting for your image, just email me and I will be glad to help you out.
steve-at-finkbuilt.com
Who wants a set of cards?