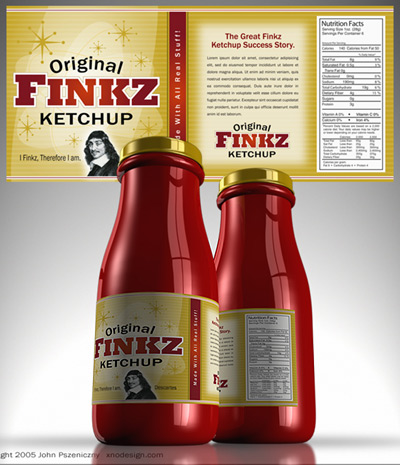 Grand Prize Winner
I'm guessing that it's not easy for some condiment upstart to muscle their way into the shelf space wars at the major grocers, but If I were going to try, I would want John Pszeniczny as Art Director in charge of packaging and identity. His designs were just so professional, commercial grade I'd say, with just the right mix of color, kitsch and simple bold stylish typography. And he went the extra mile by modeling the bottle in 3D, and mapping the label on there front and back. Nicely done John! You get first prize for your efforts, and will be receiving a George Nelson ball clock courtesy of Hive, a 20 stack of Jewelboxing Kings from Coudal Partners, and finkbuilt lab apron.
2nd Prize Winner
Choosing the second prize winner was extremely difficult work, so I made someone else do it.
The sheer volume of great entries was overwhelming in large part because of the generous donation of the Nelson clock by Patrick over at Hive, so I asked him choose the runner-up, and he decided to reward Jeff Anzulewicz for his bold design. Jeff approached the problem unencumbered by the shackles of traditional condiment branding, taking things in a fresh new direction with his tortoise and hare iconography and clean white layout. He also went the extra mile by printing out his label, applying it to the correct bottle, and photographing it in amoungst its condiment friends.
Jeff will be getting the $US7 in oddball currency and a $50.00 shopping spree at The3dStudio.com