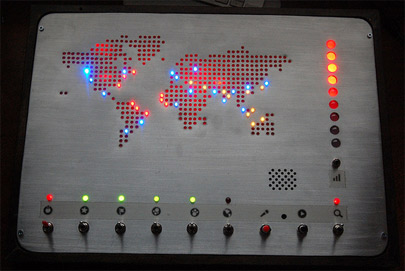 Superheros, Evil Mad Scientists, Supervillains, Trilateralists, Bilderbergers, Meteorologists, Oligarchs, Generals, Demographers, Spymasters, Epidemiologists, and well, who couldn't use a retro sci-fi command console to monitor and control their worldwide concerns?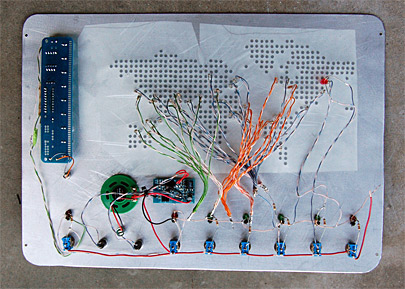 My son Harlan and his friend love to play "agents" and he asked me if we coud build "a panel that has a bunch of switches that turn on some random lights". We worked on it for about 3 weeks, and this is what we came up with. The panel boasts the following features:
Main power switch
Home base indicator
World Cities indicator (blue)
Cluster1 (red)
Cluster2 (orange)
Global Red Alert Situation (backlit 555 flasher circuit)
Message record and playback ($10 Radio Shack digital recording module)
Larson Scanner ($13 from Evil Mad Scientist Laboratories)
We used a combination of ready-made, kit, and custom circuits to achieve the lighting effects. The Larson scanner on the right – so named for Glen Larson who developed the effect for the Knight Rider and Battlestar Galactica TV shows – is available as a kit from Evil Mad Scientis Laboratories. The voice recorder module is sold at Radio Shack. The "Global Red Alert" flashes thanks to a circuit built around every beginning electronics tinkerer's favorite little chip, the 555 timer IC. The flasher and it's LED's are mounted to the inside of the back cover, and shine onto some diffusion material which covers the map holes. The rest is just, well… a bunch of switches that turn some lights on and off. These other LED groupings are made up of 3mm blue, red and yellow LEDs that poke up through the holes in the map, Light Bright style, and triggered by thwacking some mini toggle switches.
The cabinet is made from some scrap Ipe wood, and some scrap aluminum. Ipe is beautiful wood, but very difficult to work with. It contains lots of natural waxes and resins that gum up drill bits, and no glue seems to stick to it. If you don't have your pilot holes just the right size, screws will either bind, or snap right off like mine did.