When I was 7 years old, my cousin Mike came to live with us in Olympia, Washington.
Mike was 15 at the time, and in my 7 year old eyes, the coolest guy in the world. Mike became my surrogate older brother. Mike is a very talented tinkerer, maker, and inventor, and I remember always being in awe of his projects (and hijinks) as a kid. He was always making some amazing thing.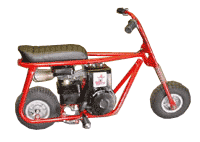 You know, this kind of minibike.
One time I bought a delapidated, old-school Briggs and Stratton powered minibike from Duffy Baldwin in the neighboring cul-de-sac for $10.00. The thing was a chopper with a rear brake that "worked" buy rubbing a metal plate against the rear tire.
Shortly threafter, Mike took the minibike away. A few weeks later he brought it back to the house totally transformed. He had cut and welded the dangerously raked forks down to something safe, sanblasted and repainted the frame, fitted a new throttle cable and replaced various other worn parts. A full restoration.
An Elsinore Restored
Well, Mike has never let up on his tinkering and inventing, and has recently completed another motorcycle restoration, this time on a 1974 Honda Elsinore, the same model that he had ridden and raced back when we were kids. Mike totally stripped the bike down, powder coated the frame and tricked it out with a period performance exhaust, and all NOS parts as needed.
Here's how mike remembers the summer of '74:
UPDATE
I had prematurely published remarkably lucid account of Mike's glory days racing motorcycles in Olympia, Washington during the early 1970′s. Mike wrote this story for publication in the AHRMA newsletter, so I have pulled the story, as not to scoop mike on his own piece. Sorry about that, Mike.
Laser tag Hopups
So, I will hijack this motorcycle racing post to display a few of Mike's recent projects from another of his current obsessions, laser tag.
Mike is at the center of a group of hardcore laser tag enthusiasts who play their games not in Family Fun Centers, but in abandoned military bases. These players are not satisfied with the standard toy store gear, but opt to build their own.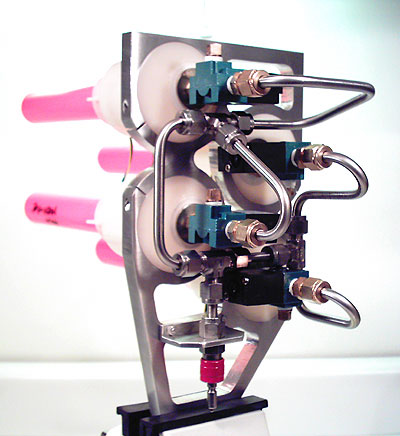 Mike's latest project is based on an pre-release version of Hasbro's new TMB lazer missle launcher. The Hasbro version has you using a hand pump to lauch a single IR emitting grenade. In typical Yates style, Mike has devised an improved version of the tagger.
Mike's Scorpion launcher has a four round removable magazine and an on board 3000 psi high pressure air supply. In addition to the upgraded missile system, he has increased the lens for the main infrared emitter to a full four inch unit with adjustable focal length to allow the user to alter the infrared light pattern to suit the tactical requirements of each area.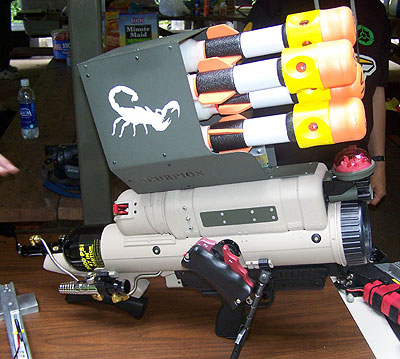 Mike has a decade or so of lasertag experiments under his belt, and will be launching his own website soon. I will keep you posted when he does.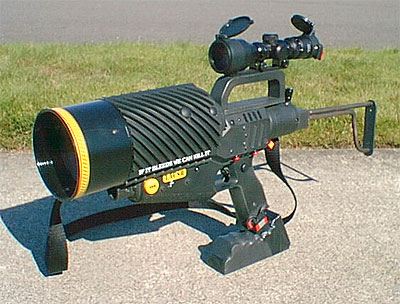 One of Mike's early sniper rifles.