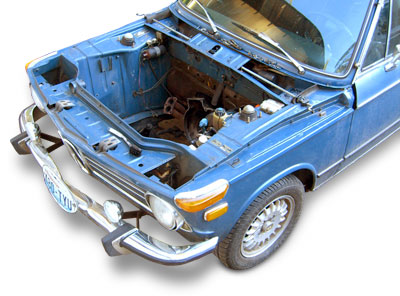 As you are aware, there are 2 basic kinds of people in this world, those who have pulled the motor out of a car, and those who have not.
Last week I crossed that demographic line, and joined the ranks of those who get to talk about "pulling their motor" and "dropping the tranny". Yes, extracting the engine clean out the car is a tinkering accomplishment right up there with learning to weld. I have removed and replaced pretty much every part of this car that can be done with the motor in place, but actually removing the motor from the car remained for me one of those things that were done only in the secret back rooms of professional mechanic's garages.
Well, last week the veils of secrecy came off, and I got to partake in this mechanical rite of passage.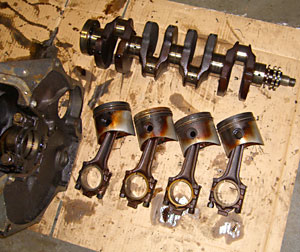 Upon dismantling the engine, we found that 3 of the 4 pistons had broken compression rings. The cam chain guide rail had completely disintigrated, distributing little bits of plastic all through the motor, and the cylinder walls were very worn. None of this was really surprising for a motor with 200K mi on it.
Now, I wait while 4 different machine shops work on refurbing and improving various parts before reassembly can begin. One shop gets the block, where the cylinders will be bored out to return them to round. A second machine shop will resurface and lighten the flywheel, ballance all rotating parts; crank, pulleys, etc. and weight match the new pistons and the connecting rods. The driveshaft has gone out to a third shop, where it will be shortened and have the front piece of a 320i driveshaft grafted on, to allow the fitment of a 5-speed overdrive gearbox from a 320i donor car. The junkyard 5-speed transmission itself is off to a fourth shop to be gone through, and at the very least have new seals installed.
To be continued…