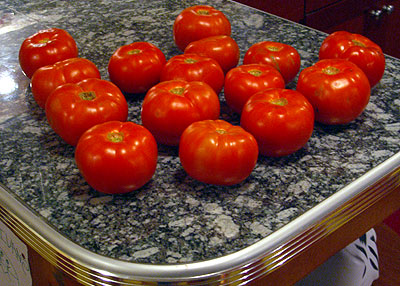 But please, do a better job than I did.
I was so looking forward to the DIY pride that I was going to feel, come spring when I served up some juicy, fresh-grilled burgers and a big basket of hot-from-the-oil, twice-cooked frits with mayonaise and my own homemade ketchup, complete with badass professionally-designed custom label by John Pszeniczny.
Well, I finally got around to making and canning the "ketchup", but I've got to say, I am pretty dissapointed with the results. I should have done more research, maybe checked out some of those sites that tell you how to make your own authentic-tasting Twinkies, or believable knock-off of the Colonel's chicken. Instead, I used the first random ketchup recipe that I stumbled upon, which happened to be this one from PickYourOwn.org.
I went out and bought 10 lbs of fresh vine-ripened tomatoes, brought them home and started in on the whole ketchp making rigmarole:
Boil the tomatoes for 30 seconds, then plunge them into an icewater bath
Remove the loosened skins
Manually remove all the seeds and water from the tomatoes
Stew the tomatos
Force the tomatoes through a mill or strainer
Steep some of the spices
Add the spices, sugar, vinegar etc, and stew them some more
Right about this time, I realized that he PickYourOwn recipe had turned out not to taste anything like ketchp. I suppose that it is a fine enough "spiced tomato condiment", but I wanted to make ketchup, and this stuff tastes way to much like cloves and cinimon, not the ketchup that I know and love.
I thought about what to do, how I might salvage this mess that I had worked so hard to create.

With the addition of some horseradish, it might make a halfway decent shrimp cocktail sauce. Instead I added 4 cups of Worchestershire Sauce.
Ketchup + Worchestershire = Barbeque Suace.
So, my failed ketchup will have to serve as a base for barbeque sauce experiments instead. This stuff will come in handy for marinating spare ribs before they go into the smoker, making chili, and a for variety of barbeque uses.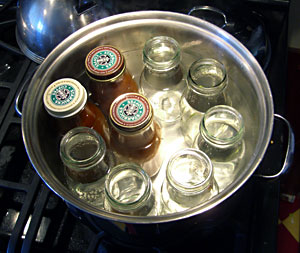 Once your ketchup is done, you then need to preserve it as such:
Clean and sterilize your bottles and lids
Fill and cap the bottles
Process the bottles
Cool the bottles
So it seems that Heinz has dodged a bullet, for now.