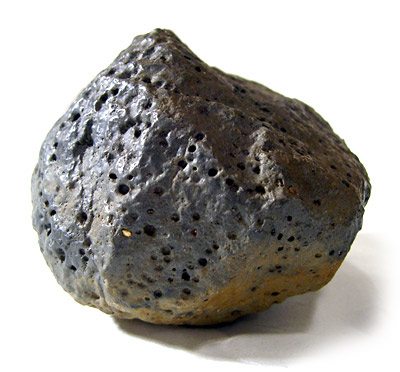 Calling all Geology dorks.
When my younger brother and I were kids we used to stay up really late on clear summer nights and lay out on the front lawn and stare up at the stars waiting for meteors. Once in a while we would get lucky and there would be a meteor shower going, or we might just happen to see a few random big ones.
I always waited for the one that would come crashing down into the vacant lot next door, or if I was really lucky, through the neighbor's roof or onto a parked car. But of course, I never got to see one hit. Ever since then I've wanted to have a meteorite specimen of my own sitting on my desk for contemplation. I just love the idea of having a chunk of extraterrestrial matter handy. But I've never found one.
My rock
Which brings me to the rock pictured above. Is this a stony meteorite, or just some chunk of volcanic rock?
I found this other-worldy looking rock in my yard the other day, and it seemed to have some of that "re-entry" melt texture that I have seen on some meteorites of the metalic variety. But this is not metalic. Still, I was hoping that it might be one of the "stoney" types. So, if any geologists out there happen to see this and can identify my rock, that would rock.
Harvesting Micrometeorites
While doing a Google search for meteorites, I came accross an interesting kids activity article that described how to collect meteorites in your own back yard. Meteorites are falling all the time, its just that most of them are microscopic and really more "space dust" than meteorites, but they are meteorites nonetheless.
To collect your own meteorites, just lay out a big tarp or sheet on your back lawn overnight. After a day or so, run a magnet over the sheet. All of those black specs that stick to the magnet are meteorites. Exciting, huh?