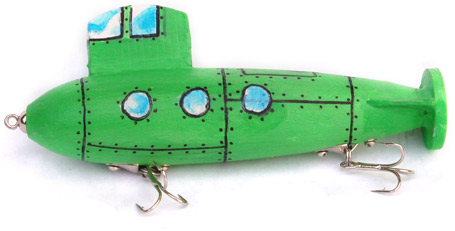 Ken is donating the proceeds from the sale of his lure to help pay the medical bills of Big John Van Hazinga who was critically injured in an unfortunate downhill accident. Please don't be shy about adding Ken's cool Minisub lure to your collection!
Charitable donations for John Van Hazinga are being collected at Ridin High Skate Shop in Burlington, VT. Read about his progress at johnridinghigh.blogspot.com.
Could you tell the visitors about your Lure?
The lure's shape is what inspired me. I decided that all I needed to do was add a conning tower and propellor shroud and it would make a great little submarine.
How did you end up being an artist?
I was an unsupervised kid with lots of paper and pens. I started drawing things like underground cave complexes and hyrdoplanes. I consider myself a better illustrator than anything else, but I've been painting in watercolor and oils for several years now and it's pushing me into new areas.
Who are some of your greatest artistic influences?
Warner Brothers, M.C. Escher, Picasso. Pixar.
What music do you have in heavy rotation right now?
Kanye West, Outkast, KC and the Sunshine Band, Ministry's Rio Grande Blood.
What do you do for fun?
Draw, paint, skateboard, pub crawls, photography, climbing, hanging with family and friends.
When was the last time you went fishing?
I pull a trout or two out of an alpine lake a few times a year. A line, worm and a bobber could net you a 12 incher in 5 minutes out there.
Do you have any words of wisdom for new or aspiring artists?
Create things that make you happy. Work more than once a week on your ideas, and never pay any attention to the critics.