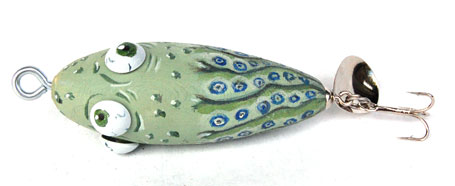 Skot Olsen was born at Fort Hood, Texas in 1969. After his father returned from Vietnam, the family moved to Connecticut, where they stayed through Skotís graduation from High School. He went on to receive his diploma from the Joe Kubert School of Cartoon and Graphic art in 1991. Learn more about Skot and his work on the Artist's Website.
Could you tell the visitors about your Lure?
The lure is for catching Lovecraftian monsters. You draw certain diagrams on a slanted wall to open a portal to another dimension, attach the lure to a very heavy chain, and toss in the lure. You'll need four stout men to pull in what you catch.
How did you end up being an artist?
I've always wanted to be an artist, so I was encouraged by my folks and went to art school.
Who are some of your greatest artistic influences?
My influences include: H.P. Lovecraft, Walt Disney, lots of Italian and Dutch old masters, and sea monsters.
What music do you have in heavy rotation right now?
When listening to music, I usually put on some ambient electronic stuff off the internet for background music while I work. I also listen to Howard Stern.
What do you do for fun?
I like to go camping, snorkeling/scuba diving, traveling, hiking, and eating delicious pizza.
When was the last time you went fishing?
I haven't been fishing for actual fish since I was a kid, but I'm always fishing for compliments.
Do you have any words of wisdom for new or aspiring artists?
Stay out of my way, kid.